I have not been feeling it lately.
Feeling what, you ask? Everything. People, this blog, Twitter, Instagram, YouTube....nada. But I'm out of my funk!
Floppy hats are one of my favorite year-round accessories! They come in many sizes, colors and textures that make them appropriate through all the seasons. I love a good LARGE straw floppy hat in the summer (a MUST for vacations!) and a smaller wool floppy hat in the fall and winter.
In my humble opinion, there is nothing better than a floppy hat and leather. Nothing.
Unless you add leopard print and a brownie. Which, of course, I did. You're welcome.
I had an event to go to last week and in planning my outfit, I decided I had to have a floppy hat and went on a mad search for the perfect one.
Coco Note: Yes, I often plan my outfits in advance. This is because I usually prefer to have a "look" or "theme" for whatever event or outing I am attending. Ex: If i'm going to a concert, my outfit should reflect the culture of the music. If i'm feeling ratchet, I must have large hoops, bangles, sneaker wedges and be chewing gum. Weird, I know, but what did you expect?
I found a few good options on ebay and on the Forever 21 and H&M websites, but I didn't want to order it online and not get it in time, and when i searched in-store, I couldn't find any of the hats I saw online. Finally the heavens opened up, a light shone (it was my computer screen) and a black floppy hat appeared on the Target website! CLUTCH!
Although when I get to the store they only had the tan version and were sold out of the black, I wasn't too hurt because it was on CLEARANCE. For. The. Motha-Flippin'. Win.
Long story uhh, long....I ended up not wearing a hat to the concert, but wore it to church on Sunday! I didn't feel like combing my hair and I still wanted to be fabulous.
I decided to go for a black and camel neutral palette for my look. You know me, I like balance-- elaborate accessories with neutral wardrobe pieces, or vice versa. I chose a simply black turtleneck and a black skirt pairing, but gave it an extra edge with a leather skirt. I wore my favorite camel coat, and of course my new floppy hat. The hat is not exactly the same color as my coat, but I didn't mind too much. To keep with the color scheme but add some interest to the look, I threw on some leopard print pumps that I've been loving.
Coco Note: I said it before and I'll say it again, leopard print is a neutral.
This outfit is definitely Central Park West fabulous.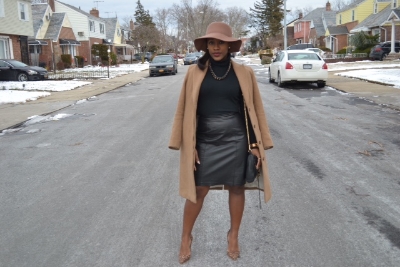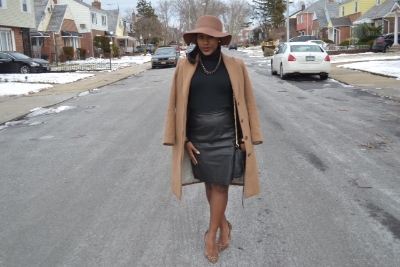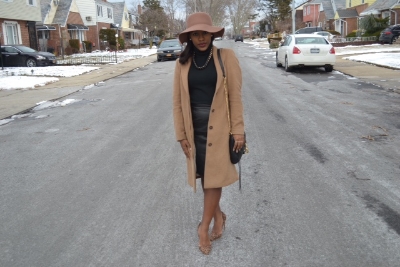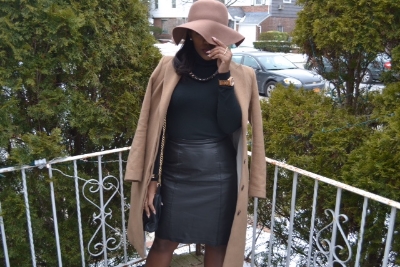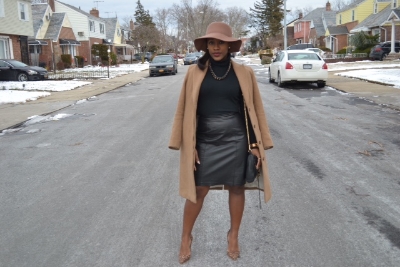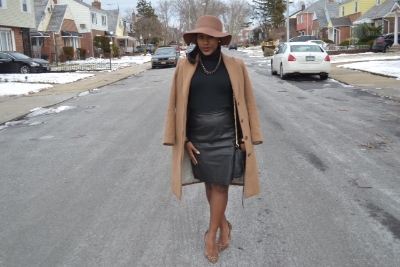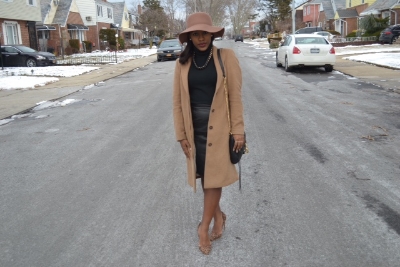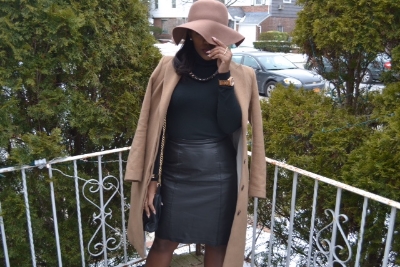 What do you think? :)
Hat: Target
Coat: H&M
Turtleneck: Target
Skirt: Thrifted
Shoes: MIA at DSW
Purse: Rebecca Minkoff
Necklace: Leather Handle of another Purse