As much as I hate to admit it, I have been waiting for the "right time" to wear this jacket for months! I received this Alexander Wang x H&M Scuba Look top as a birthday gift from my younger brother—shoutout to the bro gawd!—back in November, and had yet to wear it, until this past weekend!
My friend and designer of Fide by Mel D. was participating in the Pink Carpet Affair fashion show in Harlem, NY, and as PR for the line, I was invited to attend and be backstage! It was also one of the coldest days ever, so I decided that it would be the perfect chance to debut the sweater.
Coco Note: Does it not look like the Michelin Man meets waist trainer?! I look like Popeye y'all.
Now, I am aware that I am wearing this top backwards. I decided to wear it with the zippers at the front to give the look a little extra edge and add a little bit of sexiness to it. The top (and many of the pieces from the collection) is made of neoprene, a thick material that will cinch that waist and keep you nice & warm!
Coco Note: The Alexander Wang x H&M collection debuted in-store and online on November 5, 2014 at 10 AM and sold out almost immediately! This top originally retailed at $59.99.
I paired the top with my black, faux leather jeans for a bawsy feel. A good black pant in a material like leather (or pleather), is so essential to the wardrobe and gives off a vibe of power, authority and control. I kept the look dark and added black suede and scaled asymmetrical pumps and silver jewelry.
This look is a perfect winter outfit that can range from dinner with friends, to date night, to an event!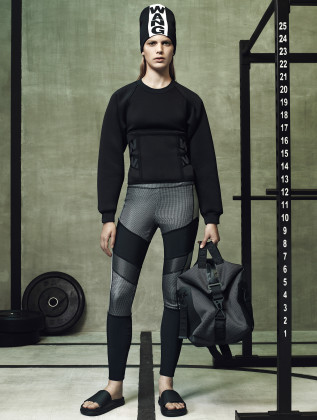 Top: Alexander Wang x H&M
Pants: Rainbow
Shoes: Dolce Vita at DSW