Hello friends!
Yesterday was one of my favorite holidays, Easter Sunday! Ever year since I was born I've worn a brand new outfit on Easter Sunday. The new outfit, for me, symbolizes a fresh start. New clothes to wear in our new lives. Just like at our baptism, when we're given new clothes to wear.
Coco Note: I mean, would you wear dirty clothes after you took a shower?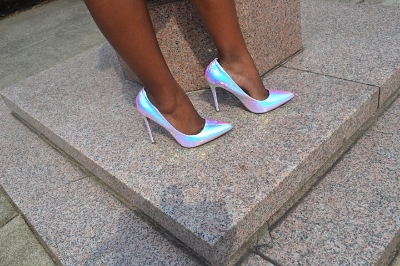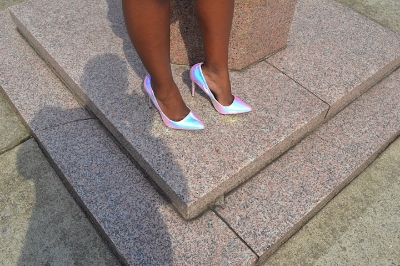 This year, my Easter outfit focused around these iridescent/holographic pumps. If you watched my Collective Spring Haul Part 1 video (hello, you should've!), you probably know that I have been obsessed with iridescent or holographic pieces. I have been searching for anything holographic that I can get my hands on forever now and when I saw these shoes...girl. Praise be to Jesus *in my Beyonce voice*
Coco Note: Hello! Holographic is the sister to sequins, of course I love it!
In my Collective Spring Haul Part 1 YouTube video (shameless plug #2), I also mentioned that I was looking for a midi-length skater skirt to go with these shoes. I found a variety of skirts that just weren't "big" enough, and a few contenders on Chicwish, but nothing that was the color or print that I really wanted.
After taking a trip to Marshalls and falling in love with this blue dress, I decided that I had found my Easter outfit! This shift dress is a beautiful pastel blue color and extremely comfortable! It has a jewel neckline with a button at the center, and also has 3 hidden buttons that you can leave closed or open up. I especially love this dress because it has such masculine touches, like the neckline and silhouette, but is still a very feminine dress. I absolutely love everything about this dress.
Coco Note: This neckline plus my layered chains totally made me feel like an OG.
I finished the look with my Layered Needle Pendant necklace from BaubleBar and my Fossil watch and H&M bow ring. The white clutch is straight out of my moms wardrobe from the 80s! And I couldn't resist adding these rainbow tinted aviator sunglasses from Dressbarn! Yupp, Dressbarn.
What did you rock on Easter Sunday? Let me know if you went all out or chilled in sweats with no makeup on!
Dress: Marshalls
Shoes: MissGuided.com
Watch: Fossil
Ring: H&M
Necklace: Baublebar
Sunglasses: Dressbarn